Outstanding News – HRGS Receives the QAVS – 2nd June 2020
The Historical Research Group of Sittingbourne (HRGS) and the volunteers who run the Heritage Hub, have been honoured with a Queen's Award for Voluntary Service (QAVS) for 'Promoting local history through research, exhibitions, events and publications'. The award is the equivalent of an MBE to voluntary groups. Nationwide a total of 230 groups were recognised for the accolade, and HRGS are one of only four volunteer organisations from across Kent to receive one this year.
The Queen's Award for Voluntary Service aims to recognise outstanding work by volunteer groups to benefit their local communities. It was created in 2002 to celebrate the Queen's Golden Jubilee.  Recipients are announced each year on 2nd June, the anniversary of the Queen's Coronation.
Our President Paul Auston Deputy Lieutenant Esq, said… "I am delighted that the HRGS have been recognised at a national level in this way.   The group have successfully engaged with people of all backgrounds and abilities to promote local heritage in the Swale and surrounding areas, and I am proud to be associated with them. Their sterling work in promoting local history is enviable, but it is the way that they have been able to inspire a whole range of volunteers to carry out that work which is exceptional. The award is well deserved and long may they continue to prosper and carry on the good work."
Sir Anthony Cleaver, our Patron, said… "I am delighted to see that Richard Emmett and all his team of volunteers at HRGS have been honoured with this national award. Their outstanding work researching the contribution the families of Sittingbourne and the neighbouring villages made to the nation's cause in World War 1 has created a remarkable archive. What is not so well known is the range of local projects that they run each year and the regular talks and publications constantly adding to our area's history. This recognition is well deserved." 
Click here for the full story.
Volunteer Swale Awards 2020 Winner – 13th March 2020

A little bit of good news…
Our chairman Richard Emmett was awarded the 'Community Fundraiser of the Year' award at the Swale Borough Council 2020 Volunteer Swale Awards ceremony, hosted at The Barnyard in Upchurch, on Friday 13th March.
Richard said "I was delighted and privileged to be nominated and to be awarded. It was a lovely evening in company with other award recipients and with my wife Theresa, who works so hard behind the scenes. Thank you to everyone who supports the work we do and to those who nominated me. Whilst I raise funds for various Swale heritage groups, the Kent wide Wheels of Time scheme is the most remarkable, as it brings young inquiring minds to the world of heritage across Swale and Kent."
Archaeological Presentation to 4th Milton Cub Pack –

13th January 2020



Richard Emmett, HRGS Chairman, spent an enjoyable evening with the 4th Milton Cub Pack...the 30 Cubs present were very enthusiastic on learning about their local history and archaeology, and what they can do to earn their 'Local Knowledge Activity Badge'.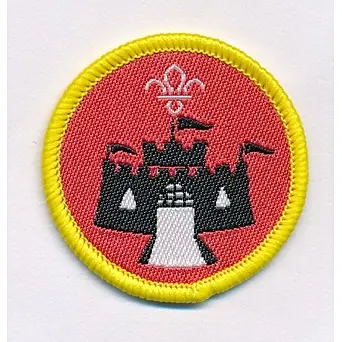 Any works that they produce can then be displayed in the Heritage Hub…it is so important that youngsters know more about the fascinating history the town has!
It gives a sense of place; and as we say in HRGS – 'History is the glue that hold communities together'.
For more information on the cub and scouts and how to join click here.
2020 Talks Programme Published – 26th November 2019
Our programme of talks for next year is now available.
As in previous years we have created a varied list of topics, which we all hope you will attend to enjoy, and you may learn something new!
Click here for the list of talks on the calendar.
Top Club and Society Volunteer Team – Swale – 22nd November 2019
Theresa, Jacky and I were proud to attend Hempstead House, Bapchild, on Friday 22nd November, where we received a Kent Volunteering 2019 Award for being 'Top Club and Society Volunteer Team – Swale' on behalf of The Heritage Hub/HRGS. Well done to everyone who have helped us achieve this award, and especially the 150 volunteers, all our visitors and researchers who have been involved in the WW1 project since 2012, and in the Hub since 2015.
Thank you to those who nominated us for the award, and to the judges and sponsors, who recognise the valuable work undertaken by the volunteer sector.
Terry Waite CBE, the Patron of the KM Charity Team who were the main organisers, gave a very moving and inspirational address regarding his time spent in captivity in the 1980s. He explained that when he was in captivity, just knowing, that there were people in the community who cared gave him hope, which he still values today.
The awards were reported in Kentonline.
More information on the Kent Volunteering Awards can be found on their website.
Remembrance Sunday – 10th November 2019
Members of the HRGS 'War Memorials Project' team had a busy time of remembrance over the weekend across many of our churches around the Borough.
Here are just some of the pictures of us:
presenting our WW1 research to a packed congregation at St Michael and All Angels church at Hartlip, and the memorial (above);
to presenting both a Banner and a WW1 research folder to St Mary Madeleine church Stockbury (below left);
to meeting up with the Honey family from Fareham Hampshire, who had travelled up to remember their loved one commemorated on the Bredgar memorial – Wilfred Honey who died 2nd March 1941 (below right, picture Wilfred's son and great-grandson Ted Honey and Oliver Snow). An article about the Honeys was published in

KM Online

and also on

KMTV

.
Lest we forget.
Halloween Monster Name Winner – 1st November 2019
Well done Jensen…he named our Halloween monster 'Freaky' which was drawn out of the hat on Friday.
He and his mum popped into the Heritage Hub on Saturday (2 Nov) to collect his prize.
Wheels of Time Awards – 5th October 2019
Five 'Sittingbourne Time Travellers' collect their 2019 Wheels of Time Top Awards at the Heritage Hub in the Forum, Sittingbourne.
They had visited all 40 Wheels of Time heritage sites across Kent…and learnt about the varied aspects of the county's history.
Well done to Daisy Elliott, Hannah Boorman, Kieran McGahern, Ryan McGahern (left) and Bailey Ryan (right).
Visit Wheels of Time or visit the Heritage Hub to find out more.
New Zealander's visit to the Hub – 17th August 2019
These photos show the value of our WW1 research, that brought New Zealand tourist Julie Ryde to see her Great Uncle Sidney Ride's name on the Wall of Reflection, in The Heritage Hub.
Julie also visited memorials in Sittingbourne and Milton Regis, which included Holy Trinity Church, Milton Regis.
Check if you have family links on our Parish Memorials Database.
HRGS Peace Day Celebrations Centenary Event – 29th June 2019



June the 29th 2019 was a momentous day, when the local community all came together to participate in, and witness a unique event. This was a WW1 Peace Day celebration within the Armed Forces Day parade, which coincided with the hottest day of the year, so far. Although the fighting ceased on 11th November 1918, the First World War did not officially end until the Peace Treaty was signed at Versailles, on 28th June 1919. The following month the whole country celebrated 'Peace Day'.
See the full article here.
Happy 100th to Flo – 25th May 2019
Flo Court, one of our regular visitors to the Heritage Hub is presented with a cake to celebrate her 100th Birthday today.
Happy Birthday from everyone at The Heritage Hub.
Swale's youngest WW1 casualty given new CWGC headstone – 23rd April 2019
A new CWGC headstone was installed for local Milton boy, Alec Ernest Grigg, who died at the young age of 14 years old.
He is the youngest casualty identified within Swale as part of the Sittingbourne Memorial Project.
See the full article here.
Sittingbourne War Memorial Project
The Heritage Lottery Fund asked recipient groups from the 'Then and Now' fund to make a submission to the Inquiry into Lessons from the First World War Centenary by 15th March 2019.  We were one of the 115 groups who responded to the request A copy of the report is available here.

It is also a great accolade to all those who have participated in the project.
BBC South East – 11th November 2018
HRGS were pleased to be able to help Robin Gibson from the BBC South East team with his news article about the First World War that was screened on 11th November 2018.
Wall of Reflection – 4th November 2018
On Sunday 4th November 2018 the Wall of Reflection was unveiled in the Forum by the Mayor of Swale. The wall commemorates the men and one lady who lost their lives as a result of WW1:
RAF 100 – 24th March 2018
A selection of photos from the event marking the 100th anniversary of the formation of The Royal Air Force which took place at Eastchurch Aviation Museum on 24th March 2018.

A short film of an event marking the 100th anniversary of the formation of The Royal Air Force which took place at Eastchurch Aviation Museum
Wheels of Time Launch
Heritage scheme for children launches in Kent called "Wheels of Time" which aims to encourage the next generation to visit history attractions across the county
Heritage scheme launches in Kent

VIDEO: Heritage scheme for children launches in Kent Wheels of Time aims to encourage the next generation to visit history attractions across the county, and kids will be able to collect badges along the way.

Posted by KMTV on Friday, 23 March 2018
HRGS Archaeology Taster Session
A free taster session in archaeology hosted by HRGS (Historical Research Group Sittingbourne). Filmed here in The Forum Sittingbourne Shopping Centre, by Kent Online News. See Youtube video below.
Ambulance Train Event wins National Award
Last November the Historical Research Group of Sittingbourne teamed up Swale Community Rail Partnership, and Kent Community Rail Partnership with volunteers and re-enactors to stage an ambitious Swale-wide event to remember the unsung volunteer heroes and-forgotten ambulance train service of the Great War
The ambulance trains were used to transport wounded servicemen to hospitals across the UK, as far as Scotland
Last week, at the 13th Association of Community Rail Partnerships (ACoRP) awards ceremony, held in The Roundhouse in Derby, it was announced that the Ambulance Event had come first in its category for 'ACoRP Best Community Engagement Award'.  Richard Emmett, chair of HRGS, attended along with representatives from the Kent Community Rail Partnership.
The Ambulance Train event began on a bitterly cold morning in November 2016 at Queenborough harbour where a dedicated group of volunteers dressed as nurses and wounded service personnel, supported by the team from Big Fish Arts re-enacted scenes of casualties being brought ashore prior to boarding an specially chartered high speed train supplied by Southeast trains to Sittingbourne.
There they were joined by "The Tommies of Mons" Living History Group and the Swale Marching Band who subsequently paraded their way to the Forum Shopping Centre.
Local shoppers and visitors in The Forum shopping centre were greeted by stalls, with exhibits from Military Groups, heritage groups, re-enactors and a film about the Trains.
The Train then went back to Sheerness and a remembrance service at the Sheerness War Memorial.
It was an incredible day and well attended by local people. 
Richard Emmett said "it is great news for Swale to win a national award and we would like to congratulate and thank our partners, volunteers and visitors for putting Swale on the map so well, for turning out in such numbers on an atrocious day and remembering these unsung heroes in the Great War.  HRGS was delighted to be a part of the event and responded to a request by Kent Community Rail Partnership for information and supplied the research and agreed to coordinate The Forum displays and the Sittingbourne end of the project, whilst providing additional expertise where needed."
Linda Brinklow. the then chair of Swale Rail Community Rail Partnership, co-ordinated events on the Isle of Sheppey.
The Kent Community Rail Partnership (KCRP) were given a glass crystal award and a framed certificate. 
Sue Murray, chair of KCRP, was "absolutely delighted" with the result, "as it provided a thought provoking event which highlighted the role that railways and ambulance trains specifically, played during WW1."
Wheels of Time Award

Congratulations to the Chapell family on achieving the top Wheels of Time award presented recently at the Heritage Hub in Sittingbourne. Wheels of Time is a fun way for children (and families) to explore museums and heritage sites in Kent.